Key Takeaways: Hide Channels in the Guide on YouTube TV

YouTube TV's Guide feature provides a user-friendly way to browse and switch between live television channels and programs. Here you will get to know:

Users can hide infrequently watched channels in the Guide to declutter and personalize their viewing experience.

To hide channels, users need to access the Live Guide section in the YouTube TV settings, locate the desired channels, and click on the eye icon next to their names.

Organizing the Guide by removing unwatched channels, creating a favorite channel list, and customizing the channel order can further enhance the user experience.

Hiding channels helps simplify navigation, reduce clutter, and prioritize frequently watched channels, leading to cleaner and more personalized YouTube TV usage.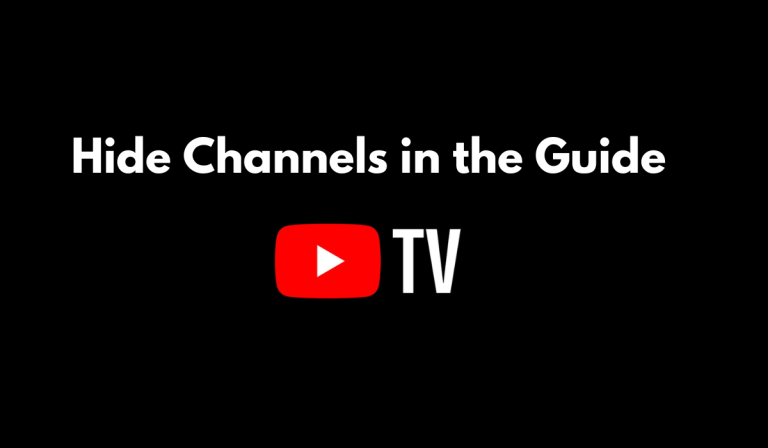 YouTube TV is a well-liked streaming service that grants users access to live television channels, on-demand programs, and movies. Additionally, it offers a convenient Guide feature that consolidates all available channels in a single location, simplifying the search for desired content. 
Nevertheless, certain users may wish to conceal infrequently watched channels, thereby enhancing the Guide's cleanliness and navigational ease. In this article, we will provide a detailed walkthrough on the process of hiding channels within the YouTube TV Guide, enabling you to personalize your viewing experience and maximize the benefits of your subscription.

What is the YouTube Guide Feature?
The Guide feature within YouTube TV serves as a navigational tool presenting users with a comprehensive list of available channels on the platform. It offers a user-friendly method to browse through channels, allowing individuals to effortlessly view the current and upcoming programs without the need to change channels.
The channels are conveniently organized in alphabetical order, enabling users to scroll both upward and downward to explore additional channels. At the top of the Guide, the YouTube Guide displays the current time along with the channel currently being watched.
By incorporating this feature, users can effortlessly locate desired content, switch between channels, and explore new content options.
How to Hide Channels in the Guide on YouTube TV?
However, certain users may find this feature bothersome and are seeking a method to conceal channels in the Guide on YouTube TV. To accomplish this, follow the steps provided below.
To begin, log in to your YouTube TV account using any web browser. 
To access the Guide, click on your profile picture and select Settings from the dropdown menu. 
Next, choose the Live Guide option from the menu on the left-hand side of the screen. 

Here, you will find a list of all the channels included in your guide. 

To locate a specific channel you wish to hide, simply scroll through the alphabetical list. 

Once you've identified the channel you want to hide, click on the eye icon next to its name. 

Repeat this process for any other channels you wish to hide. 

Similarly, you can add channels to your Favorite or Top list by clicking on the upward arrow icon next to their name. 

To confirm that a channel has been successfully hidden, open the Guide on YouTube TV and refresh the page. 

You will notice that the hidden channels are no longer visible, and your favorite channels will appear at the top of the list. 
By following these straightforward steps, you can easily hide channels in the YouTube TV Guide, enhancing your viewing experience with a simpler and more streamlined interface.
Tips for Organizing Your Guide.
Here are some suggestions for organizing your YouTube TV Guide effectively:
Remove Unwatched Channels:

If there are channels you never watch, declutter your Guide by hiding them. This will make it simpler to locate the channels you actually watch.

Create a Favorite Channel List:

Compile a list of your preferred channels by selecting the upward arrow icon beside the channel name. This enables quick access to your favorite channels, ensuring easy discovery of the content you desire.

Customize Guide Order:

Personalize your Guide by rearranging channels. Simply drag and drop channels to different positions in the list. This allows you to prioritize and easily find the channels you frequently watch.

Restore Hidden Channels: If you wish to view hidden channels again, it's effortless to unhide them. Access the "Settings" section of YouTube TV, choose "Live Guide," and click on the "Unhide Channel" option next to the channel's name.
Importance of Hiding Channels in the Guide on YouTube TV
The act of concealing channels in the Guide serves an important purpose by simplifying navigation and enhancing the viewing experience. Given the multitude of available channels, the Guide can swiftly become cluttered and challenging to navigate, which makes locating desired content a daunting task.
By hiding infrequently watched channels, you can effectively reduce clutter in the Guide, resulting in easier access to the channels you truly want to watch. Furthermore, this practice aids in decluttering your home screen, lending a cleaner and more organized appearance to your YouTube TV usage.
Another benefit of hiding channels is the ability to concentrate on the channels you frequently watch, ensuring their convenient accessibility. You also have the option to customize your Guide to exclusively display channels that pique your interest, enabling quicker and more convenient discovery of desired content.
Hiding channels in the Guide is essential for personalizing your YouTube TV experience and maximizing your subscription's utility.
Conclusion
Hiding channels in the Guide on YouTube TV is valuable for personalizing the viewing experience. The Guide feature provides a comprehensive list of channels, simplifying navigation through content options. However, for those who find the feature bothersome or want to declutter their Guide, hiding channels is a simple process. 
By following the provided steps, users can easily hide infrequently watched channels and prioritize their favorite ones. This not only reduces clutter and enhances navigation but also allows for cleaner and more organized YouTube TV usage. Focusing on frequently watched channels and customizing the Guide enhances convenience and efficiency.
Hiding channels in the Guide is vital for personalizing the YouTube TV experience and maximizing the subscription.